Born
October 23, 1928
Passed Away
Sunday, December 4, 2011
Service
Venice Hongwanji Buddhist Temple on Friday, Dec 16, 2011 at 3:00 PM
Obituary for Sadako Oki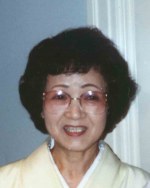 OKI, SADAKO (83) passed away on December 4, 2011 in Culver City. She is survived by her husband, Ben Oki; children, Mark (Jennifer) and Peggy Oki; grandchildren, Dylan and Lauren Oki; sisters, Hisako Sera and Ikuko Nakanishi of Japan; also survived by many nieces, nephews and other relatives in U.S. and Japan.
A private funeral service was held on Friday, December 16, 2011 at Venice Hongwanji Buddhist Temple.
Condolences and best wishes
Evan Luse

January 28, 2012, 6:16 PM

Ben Oki-san and family, I am greatly saddened to learn of Mrs. Oki's passing. my thoughts and prayers are with you and your family.

Evan Luse
Highland Heights, KY
(student of Richard Straus)

Bill Brice

January 29, 2012, 7:16 AM

We were sorry to hear of the loss of your wife. You are in our thoughts and prayers. Bill and Bettye Brice. Kansas City Bonsai.